Post-Labor Day has and always will be my favorite time to be at the beach —
To hear the crashing waves, smell the salty air and people watch over a cooler-packed lunch. BUT FIRST –> SUN PROTECTION AND SHADE!
… Something I wish 14 to 24 year old Meg did, too. Instead, I worked on my 'gorge' tan — I mean, my wrinkles, age spots & risk of melanoma. Awesome.
"Having five serious sunburns between the ages of 15 and 20 increases your risk for melanoma by 80%" —the American Academy of Dermatology (source: Allure Mag, May 2018)
Unfortunately, when we are that age, we also feel we are invincible. So, we need to keep EDUCATING others, NO MATTER how uncomfortable and personal it gets.
Heck, let's add awkward to the list, too 😉
---
Spreading the word via social media is one way we can help others avoid the mistakes we made. I also partner with the American Academy of Dermatology to help tell stories like this —
Sooooo
Wear sunscreen daily
Don't 'layout' in the sun or tan
See a dermatologist regularly
I see two dermatologists! Facial Aesthetics Center and South County Dermatology – who last week, found a mole on me that could possibly end up being cancerous. This would be my first "mole scare" and I'm all — What. The. #$%@!
---
Last year, this D.C. Magazine interviewed me about my beauty philosophy. One of the first things that came to mind? Sunscreen. If I'd been asked that 15 years ago, laying out and tanning beds would be part of my answer. Like, whaaaaaa?!? (Me, now)
---
And guess what? You're in fab company if you, too regret your time in the sun…. YUP, so does Jennifer Aniston! Here's what I else I appreciated reading in this article :
"…water, sleep, and sunscreen" are (Aniston's) "top three anti-aging tips."

"And while she's not afraid to try out trendy (and expensive!) spa treatments, her at-home skin care routine is surprisingly simple."
What trendy spa treatment, you ask? I tried it for my report, here:
---
Speaking of"Rachel" & (NOT THE UV) tanning …remember this scene?? LOL!!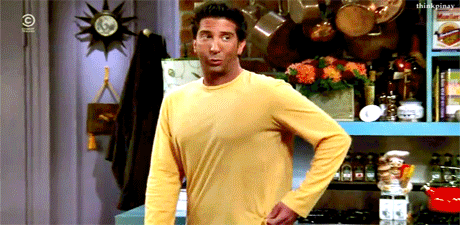 But, those misconceptions about spray tans leaving us orange are pretty much faded,  right? Or no? I'm trying to gather as much info as I can about SPRAY TANNING right now and I need your help!!! Pretty (no pun intended) please!
Do you spray tan?
What do you wish was different about spray tanning?
Please share any and all thoughts you have… I can't wait to read them!!